Cat.Art.Home <Healing Tea House>
-- A great place for cat lovers to relax and restore!
Cat.Art.Home is a newly opened cat theme restaurant, embodied with 4 lovely store cats attending guests and also a cat-related art craft gallery function. The maker of the store, Sara Lo, is a cat lover and a well-known cat photographer on Facebook. 18 months ago, Sara left work owing to the impact of her father's death and elder sister's sickness of a serious stroke.
Through the faith of God and the inspiration influenced by her sister, she picked up the one-eyed digital camera and learned to shoot mostly about cats. With amazing passion and enthusiasm, Sara had kept on shooting her own cats and cats elsewhere to find the comfort. Sara also engaged herself to intensive Facebook cat lover clubs activities and also volunteer work for street cats adoption fairs and shelter caretaker. Recently Sara has decided to devote her life to host an affectionate space for cat lovers and cat art craft appreciators to enrich life.
キャット・アート・ホーム
愛猫家のための最高の癒し空間!
キャット・アート・ホームは4匹の可愛い猫ちゃんのスタッフがお客様をお迎えする、猫をテーマとしたティーハウスです。また、アートギャラリーでもあり、画家や写真家などのさまざまな猫に関連したアートを展示しています。
オーナーは猫をこよなく愛す、Facebookで猫の写真家としてもよく知られている、サラ。
最愛の父の死と姉の脳卒中という辛い現実の中、サラは姉の趣味でもあった一眼カメラを手に取り、猫を撮り続けてきました。自分の猫や、街中の猫を撮り続けている時間がサラにとっての癒しとなっていたのです。
さらに、Facebookのcat lover clubsの活動や捨て猫の保護施設でのボランティアにも力を注いでいます。
そんな彼女がついに、猫好き、アーティストのための"キャット・アート・ホーム"を作りました!

(Below: Sara was interviewed by newspaper "Star News", reporting about her experience of taking care of cats)
(猫の飼い方について新聞記事"Star News"のインタビューを受けているサラ。)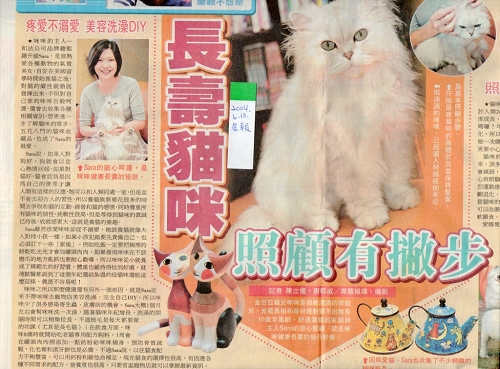 (Below 3: Sara also wrote for the famous magazine "Cosmopolitan" about her "Cat Stuff" collecting travel experience.)
(サラも有名な"Cosmopolitan"の雑誌に、猫グッズを求め旅行をした経験を書きました。)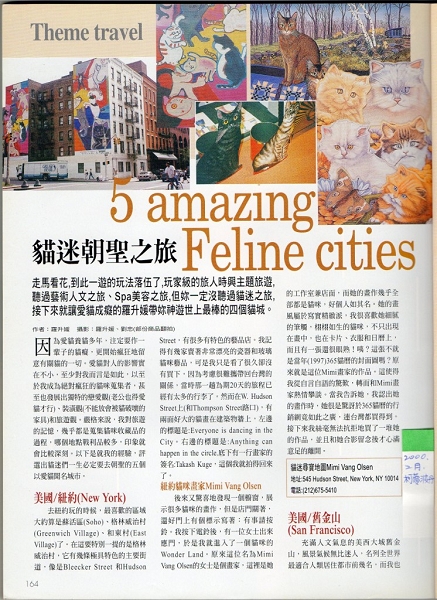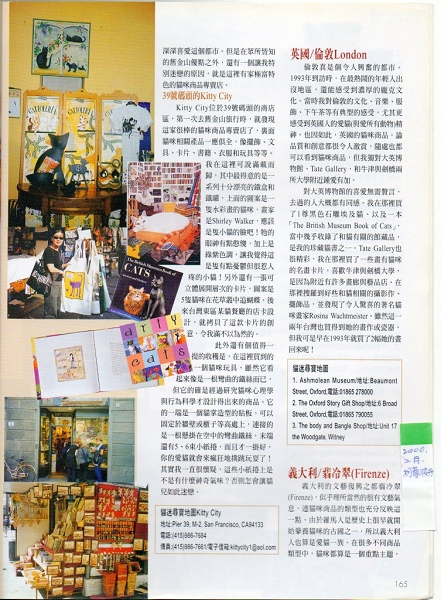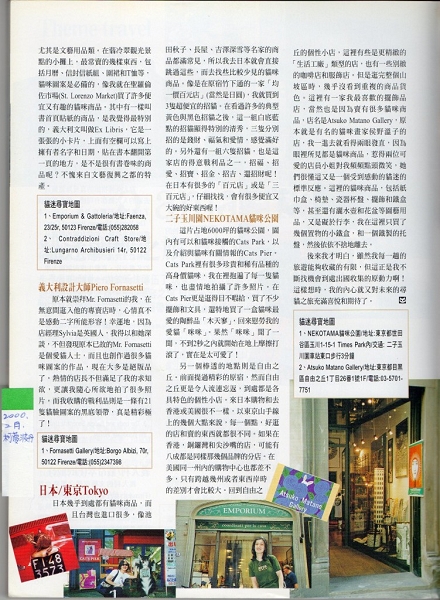 Now Sara has a brand new identity as "Cat Mommy" and "Cat Photographer" and she builds a wonderful tea house for cat lovers and cat arty craft lovers.
現在のサラは"猫たちのママ"そして"猫写真家"。そんな彼女が猫好きたちとアーティストのためのティーハウスをオープンしました。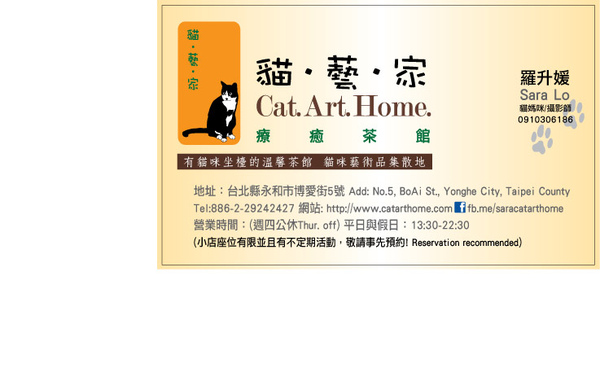 What is the Magic of Cat.Art.Home: It's perfectly designed for cat lovers!!!
(Below: The low tables and cushions are the unique design among Taiwan's cat-theme cafés. Sara explains that this is the only way that "people" and "cats" can really be close together. This design has won a lot of cat lovers' hearts already.)
キャット・アート・ホーム;まさに猫好きたちのための場所!!
猫たちと人がより近く、より自然に接することができるように、店内にはソファーと低いテーブル、ざぶとんという、まるで家でくつろいでいるかのように感じられるスタイルです。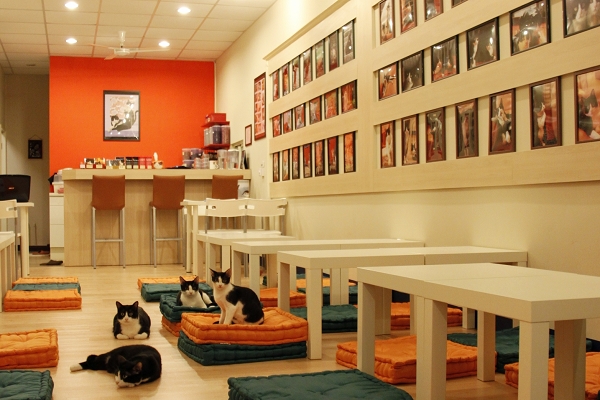 (The lovely house cat – Pair One - "Tuxedo-Twins" Little-Bu on the left, and Lala on the right. Age around 5, both boys, both with shining soft hair, both very amiable. )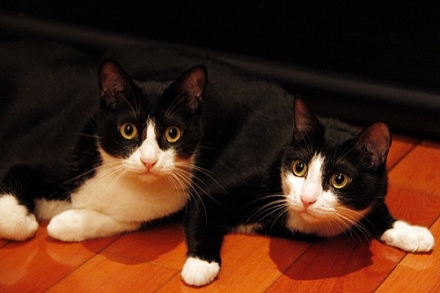 (The lovely house cat – Pair Two - "Cow-Twins" Lavender on the left, and Rosemary on the right. Age about 1, brother and sister, both very playful and sweet, totally close to people. )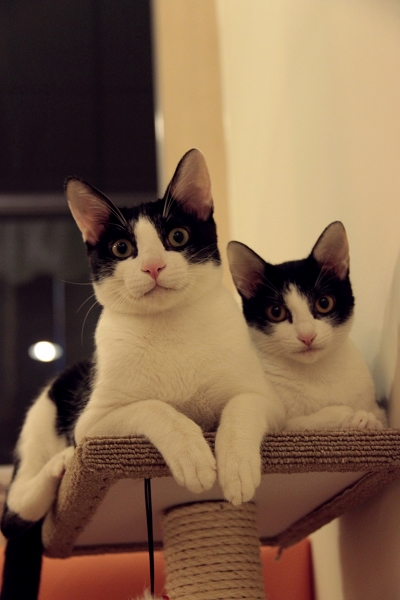 (The lovely house cat – Pair Three - "Sheer Black" kittens. Duo-Duo the girl on the left, Hwa-Hwa the boy on the right. Age about 3 months, sister and brother. Both very cute and love to play. )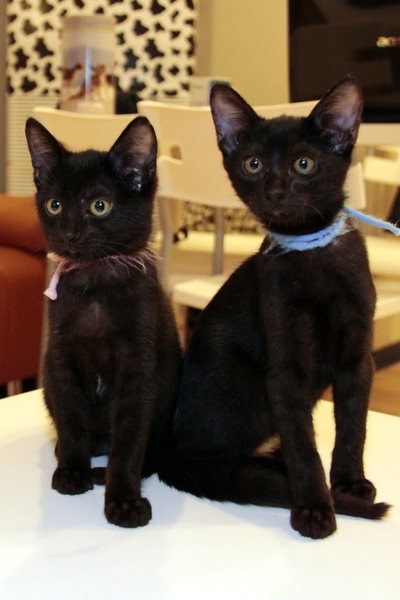 (Below 3: what you can see happening at Cat.Art.Home. People and Cats are having great fun!!)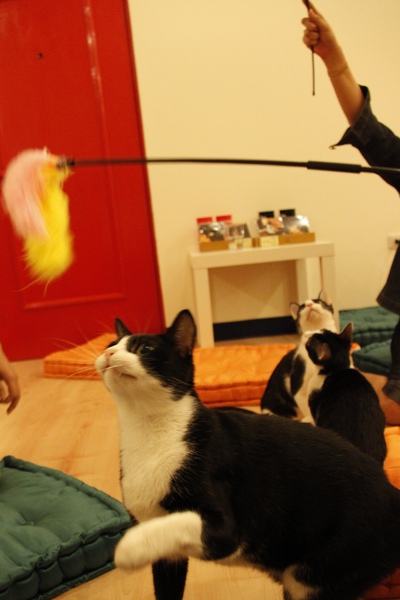 This is Little-Bu in front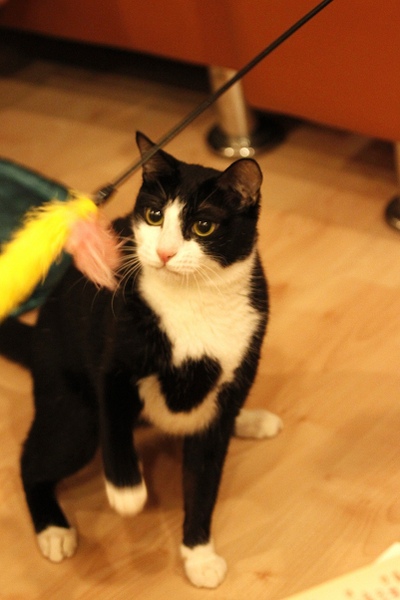 This is Lala playing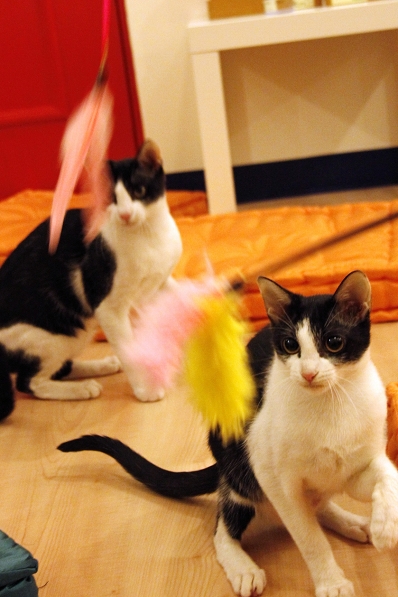 Rosemary in front and Lavender in back
Below 4: Laverder is being "fished"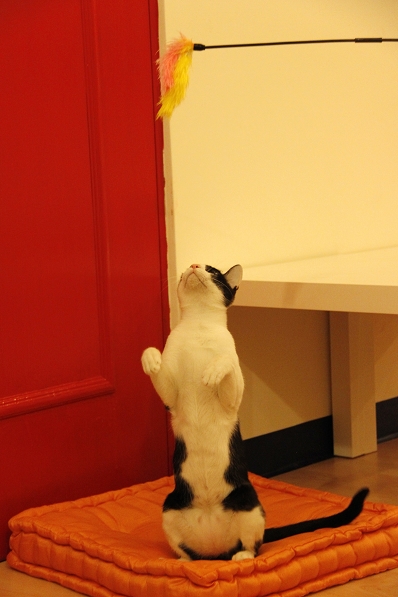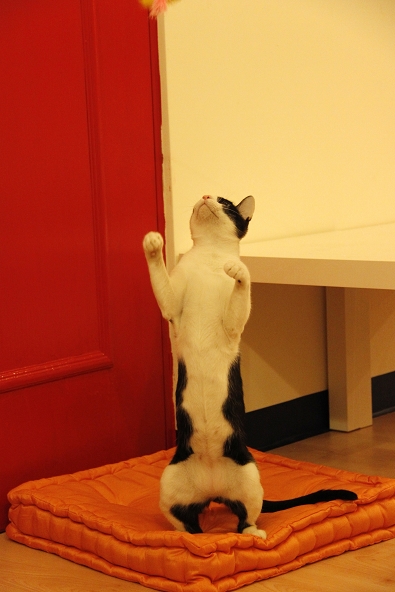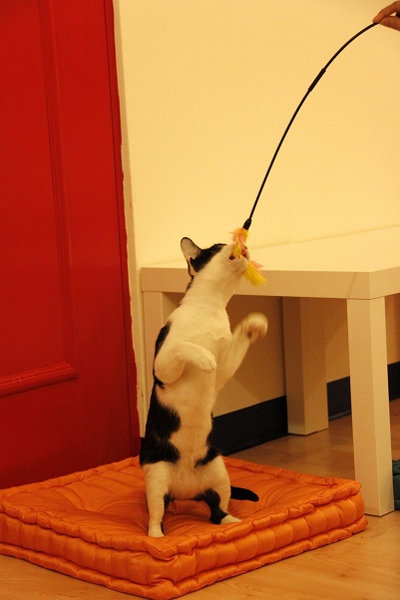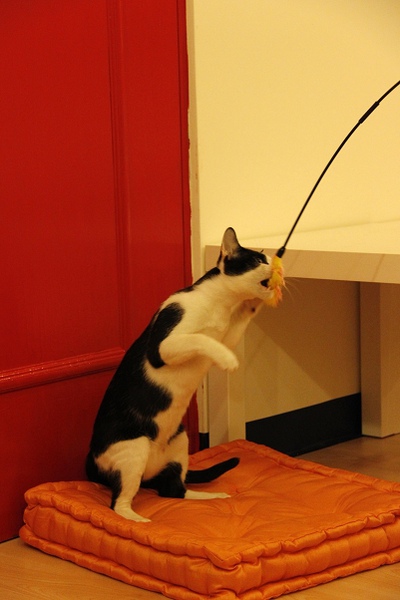 Our 4 lovely house cats: from left to right Lavender, Little-Bu, Lala, and Rosemary.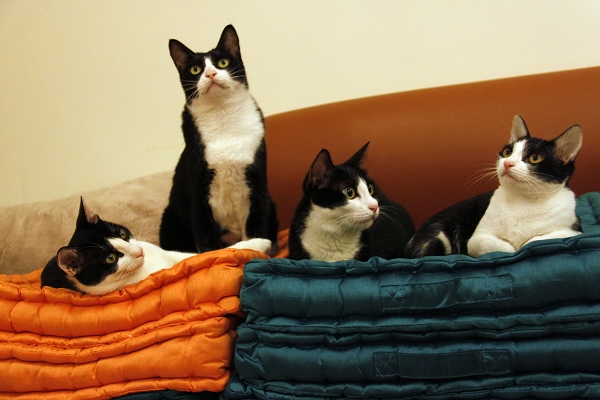 Cat.Art.Home
Facebook account: fb.me/saracatarthome
Website: www.catarthome.com
Address: No.5, BoAi St., Yonghe City, Taipei County, Taiwan
Tel:886-2-29242427
Business Hour: (Thursday Off)
Weekday 13:30 - 22:30
Weekends 12:00 - 22:30